Sun, 29 Feb 2004
USAF orbital space bomber designs of the 1950's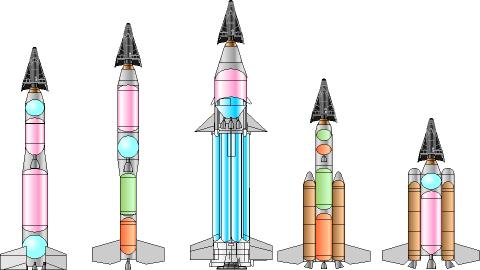 I don't read Encyclopaedia Astronautica often enough. Mark Wade, historical space geek par excelence, updates it about once a month with the result of his latest digging. Recently he's updated it with a comprehensive history of the DynaSoar project of the 1950's and 1960's. DynaSoar was cancelled in the late 1960's, shortly before first orbital launch, in its final incarnation as a manned orbital spaceplane; but it has a much longer history, dating all the way back to Peenemunde and the Nazi secret weapons program: "it evolved from the German Saenger-Bredt Silverbird intercontinental skip-glide rocket bomber. Walter Dornberger, former head of Peendmuende, was at Bell Aircraft in the 1950's and developed the Sanger-Bredt concept through various iterations," as Wade notes.
Among other fun facets of the design, was the (not really recognized at the time) environmental implications: "the booster could be powered by two of the high-performance liquid fluorine/hydrazine Chariot motors being developed by Bell ... [or if unavailable] ... a single Atlas sustainer engine or the X-15 XLR-99." Liquid fluorine and hydrazine are not, shall we say, among the most environmentally friendly of substances. Another fun facet was the use of derivatives of the same vehicle for strategic reconnaissance and as an intercontinental orbital nuclear bomber. (Did anyone consider the possibility that the other side might misinterpret a recce overflight as a pre-emptive attack and go apeshit?) But most interesting of all is the completely over-the-edge gonzo approach to building Things That Go Fast And Explode; if at first your bomber doesn't go fast enough with jet engines, stick it on top of an ICBM that leaves an exhaust trail of hydrofluouric acid, and light the blue touch paper.
The klaxon sounds in the hardened silo deep beneath the earth. A space-suited astronauts run from the ready room, grabs the bar over the hatch, and hoists his legs into the cockpit. The ground crew attach his suit hoses, check that he is strapped into the ejection seat. The pilot closes the hatch above him. The blast doors open, the rocket is raised to the surface of the earth. Minutes later the Titan roars from the silo, launching the Dyna-Soar space bomber on an intercontinental nuclear strike mission ...
Dr Strangelove, eat your heart out.



posted at: 13:53 | path: /weird | permanent link to this entry
specials:

Is SF About to Go Blind? -- Popular Science article by Greg Mone
Unwirer -- an experiment in weblog mediated collaborative fiction
Inside the MIT Media Lab -- what it's like to spend a a day wandering around the Media Lab
"Nothing like this will be built again" -- inside a nuclear reactor complex
---
Quick links:
RSS Feed (Moved!)
---
Buy my books: (FAQ)


Missile Gap

Via Subterranean Press (US HC -- due Jan, 2007)



The Jennifer Morgue

Via Golden Gryphon (US HC -- due Nov, 2006)



Glasshouse
---
Some webby stuff I'm reading:


[ Engadget ]
[ Gizmodo ]
[ The Memory Hole ]
[ Boing!Boing! ]
[ Futurismic ]
[ Walter Jon Williams ]
[ Making Light (TNH) ]
[ Crooked Timber ]
[ Junius (Chris Bertram) ]
[ Baghdad Burning (Riverbend) ]
[ Bruce Sterling ]
[ Ian McDonald ]
[ Amygdala (Gary Farber) ]
[ Cyborg Democracy ]
[ Body and Soul (Jeanne d'Arc) ]
[ Atrios ]
[ The Sideshow (Avedon Carol) ]
[ This Modern World (Tom Tomorrow) ]
[ Jesus's General ]
[ Mick Farren ]
[ Early days of a Better Nation (Ken MacLeod) ]
[ Respectful of Otters (Rivka) ]
[ Tangent Online ]
[ Grouse Today ]
[ Hacktivismo ]
[ Terra Nova ]
[ Whatever (John Scalzi) ]
[ GNXP ]
[ Justine Larbalestier ]
[ Yankee Fog ]
[ The Law west of Ealing Broadway ]
[ Cough the Lot ]
[ The Yorkshire Ranter ]
[ Newshog ]
[ Kung Fu Monkey ]
[ S1ngularity ]
[ Pagan Prattle ]
[ Gwyneth Jones ]
[ Calpundit ]
[ Lenin's Tomb ]
[ Progressive Gold ]
[ Kathryn Cramer ]
[ Halfway down the Danube ]
[ Fistful of Euros ]
[ Orcinus ]
[ Shrillblog ]
[ Steve Gilliard ]
[ Frankenstein Journal (Chris Lawson) ]
[ The Panda's Thumb ]
[ Martin Wisse ]
[ Kuro5hin ]
[ Advogato ]
[ Talking Points Memo ]
[ The Register ]
[ Cryptome ]
[ Juan Cole: Informed comment ]
[ Global Guerillas (John Robb) ]
[ Shadow of the Hegemon (Demosthenes) ]
[ Simon Bisson's Journal ]
[ Max Sawicky's weblog ]
[ Guy Kewney's mobile campaign ]
[ Hitherby Dragons ]
[ Counterspin Central ]
[ MetaFilter ]
[ NTKnow ]
[ Encyclopaedia Astronautica ]
[ Fafblog ]
[ BBC News (Scotland) ]
[ Pravda ]
[ Meerkat open wire service ]
[ Warren Ellis ]
[ Brad DeLong ]
[ Hullabaloo (Digby) ]
[ Jeff Vail ]
[ The Whiskey Bar (Billmon) ]
[ Groupthink Central (Yuval Rubinstein) ]
[ Unmedia (Aziz Poonawalla) ]
[ Rebecca's Pocket (Rebecca Blood) ]
---
Older stuff:

June 2006
May 2006
April 2006
March 2006
February 2006
January 2006
December 2005
November 2005
October 2005
September 2005
August 2005
July 2005
June 2005
May 2005
April 2005
March 2005
February 2005
January 2005
December 2004
November 2004
October 2004
September 2004
August 2004
July 2004
June 2004
May 2004
April 2004
March 2004
February 2004
January 2004
December 2003
November 2003
October 2003
September 2003
August 2003
July 2003
June 2003
May 2003
April 2003
March 2003
February 2003
January 2003
December 2002
November 2002
October 2002
September 2002
August 2002
July 2002
June 2002
May 2002
April 2002
March 2002
(I screwed the pooch in respect of the blosxom entry datestamps on March 28th, 2002, so everything before then shows up as being from the same time)
---