(This blog entry brought to you from the "if you whack the hornet's nest and it doesn't explode you obviously didn't whack it hard enough" department ...)
Steampunk. Is it a dessert topping or a floor wax? 

I've been continuing to think about the subject since my previous blog entry on the subject, and I've reached a tentative conclusion:
Steampunk has, some time between the initial wave of the mid- to late-eighties and the present, spun itself right out of SF and fantasy and become its own self-contained genre. (Hence the reaction I got. It wasn't the response you see to an internal dialogue occuring within a genre, it was more like the explosion of outrage that typically follows a perceived attack from outside.)
This happens from time to time. It's hard to contextualize paranormal romance within the pre-existing field of urban fantasy as defined in reference to, say, Emma Bull and Charles de Lint; while vampires and werewolves remain tropes that you can usefully deploy within SF or fantasy, paranormal romance brings its own distinct set of assumptions to bear on the monster parade and uses them to quite different ends.
But anyway. Steampunk has its own internal body of signifiers and cliches, and I've been trying to get a handle on them. The most obvious ones are the stock items that, when dumped on a book cover, tell the uninformed reader that it belongs to a given genre. It's not so long ago that any new SF imprint was guaranteed to have a rocket ship on the book spine, or a galaxy, or even a ray gun. Paranormal romance covers are still dogged by the cliche of a woman, face invisible and back turned, big tattoo on her butt or spine, with a sword, a gun, or a werewolf just to underline the message.
These days, steampunk is a new enough genre to still be finding its core signifiers, but I'm pretty certain if you designed a cover around a motif of a Zeppelin wearing a top hat while smoking a cigar everybody would get the message. (Goggles optional.) And at Novacon I asked various folks if they felt like designing the ultimate steampunk book cover for me. Here's Nelson Cunnington's take on the challenge: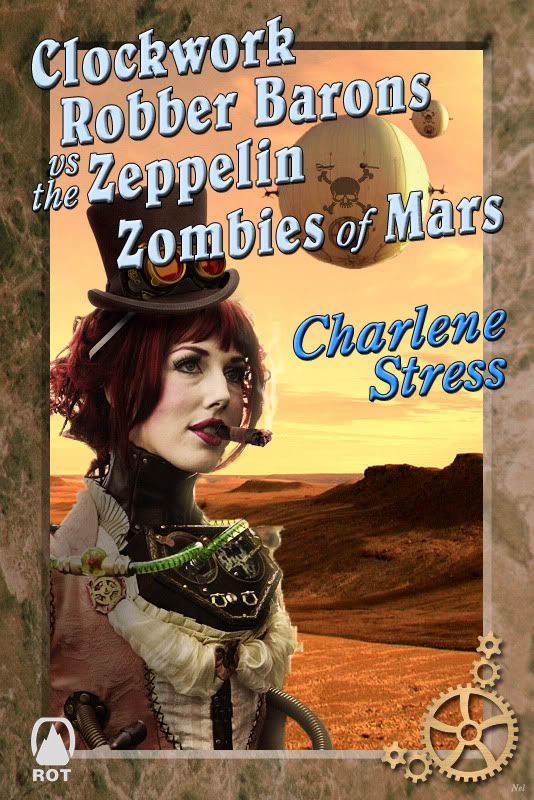 CHALLENGE: Can you design the ultimate steampunk book cover? If so, post a link below! The prize will be ... uh ... I'll think of something. OK?