Nice cat photo, Charlie! I like the green eyes.
In my previous post, I was talking about the idea of creating an online simulation of oneself--what I call a lifebox. For now, the lifebox is simply a largish database of your writings, spoken words, and/or images, with links among the components, and a front-end that's an interactive search engine.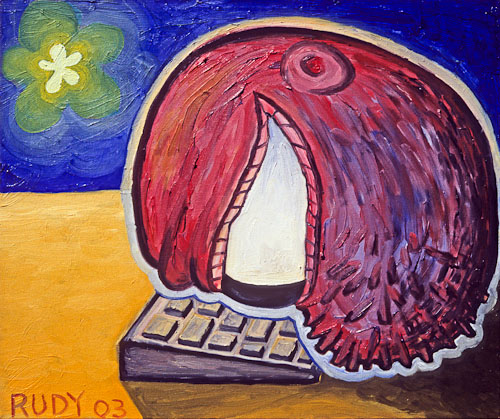 [At this point I should explain that I'm prone to illustrating my blog posts with images that aren't always quite rigorously related to the topic. But here, clearly, we see a painting by me in which a person is inputting their life's information into a keyboard. Or vice-versa.]
Today I have a few more remarks on the lifebox concept, although at this point much of this material has already been anticipated in the impressively vigorous and high-level discussions in the comments. But I'll go ahead and post this anyway, and move onto something else in a day or two.
As I've been saying, my expectation is that in not too many years, great numbers of people will be able to preserve their mental software by means of the lifebox. In a rudimentary kind of way, the lifebox concept is already being implemented as blogs. People post journal notes and snapshots of themselves, and if you follow a blog closely enough you can indeed get a feeling of identification with the blogger. And many blogs already come with search engines that automatically provide some links.
As I mentioned before, I recently published an old-school version of a lifebox, that is, a written autobiography, Nested Scrolls.
But today I'm talking about something more interactive. If you're prone to placing large amounts of material on your website, you're already partway to having a lifebox. You can base it on a fairly cheap trick--make a so-called lifebox page which has a search box which uses, say, the Google search engine to comb through all the material that you've placed upon your website. As I already mentioned in the comments, I myself set up a primitive Rudy's Lifebox page in 2010.
At this point, the Rudy's Lifebox page has a totally feeble front end. But it should be feasible to endow this kind of website-search-app with interactive abilities; people could ask it questions and have it answer with appropriate links and words.
For a fully effective user experience, I'd want my lifebox to remember the people who talked to it. This is standard technology--a user signs onto a site, and the site remembers the interactions that the user has. In effect, the lifebox creates mini-lifebox models of the people it talks to, remembering their interests, perhaps interviewing them a bit, and never accidentally telling the same story twice--unless prompted to.
Suppose you developed a lifebox version of yourself that worked quite well. Then what? You might start letting your lifebox carry out those online-interview gigs that you don't have the time or energy to fulfill.
Your lifebox could become a sophisticated spam-bot. It might actively go out and post things on social networking sites, raising your profile on the web and perhaps garnering some in-person speaking invitations. This could of course go too far--what if your lifebox became so good at emulating your that people preferred its outputs to those of your own cantankerous self?
So is a lifebox a full personality upload? Well--no. As yet, there's no ghost in the machine. On their own, your memories and links aren't enough to generate an emulation of you.
This said, another person who studies your memories and links can get into your customary frame of mind, at least for a short period of time. We humans are universal computers and we're exquisitely tuned for absorbing inputs in the form of anecdotes and memories. One's memories and links can act as a special kind of software that needs to be run on a very specialized kind of hardware: another human being. Putting it a bit differently, your memories and links, if properly presented, become an emulation code that runs on human beings. A subtle point.
Looking further ahead, how would one go about creating a human-like intelligence that would emulate you on plain dumb computers? That is, how would we animate a lifebox so as to have an artificial person?
A short answer is that, given that our brains have acquired their inherent structures by the process of evolution, the likeliest method for creating intelligent software is via a simulated process of evolution within the virtual world of a computer. There is, however, a difficulty with simulated evolution -- even with the best computers imaginable, it may take an exceedingly long time to bear fruit. The 1990s craze for artificial life has pretty well petered out.
An alternate hope is that there may yet be some fairly simple model of the working of human consciousness which we can model and implement in the coming decades. The best idea for a model that I've seen is in a book by Jeff Hawkins and Sandra Blakeslee, On Intelligence. Their model describes a directed evolution based upon a rich data base that develops by continually moving to higher-level symbol systems. One of their bits of evidence is that, looked at simply as wetware, the parts of the brain that do sound or touch or vision are all about the same as each other: stacked layers of neurons.
And we can still dream that there's some really simple AI trick that we haven't yet thought of. Something as slick as simplifying arithmetic by using zeroes and positional notation. An exponentially better approach.
But do keep in mind that, even without an intelligent spark, a lifebox can be exceedingly lifelike. If you have a big enough data set, a search engine can do quite a good job of simulating thought. Indeed, when I'm in conversation with strangers, well over ninety percent of my utterances are being produced via simple search and display methods.
But I live for the happy moments when I stumble, get something wrong, and actually say something inappropriate. Like mentioning that, in the light of quantum computation, even a stone is performing insanely fast computations all the time--with its octillion or so particles jiggling around like balls on springs. So the stone is potentially as intelligent as a person. All we need is the i/o...