One more before Christmas...
IA, AI, and the Big Aha
What I've been leading up to with my talk about the lifebox is a discussion about how a certain kind of advance in AI could occur in concert with a discontinuous jump in ordinary human intelligence via IA, that is, Intelligence Amplification.
I'm calling this advance The Big Aha, and it will probably play a role in my next SF novel--which might even be entitled The Big Aha.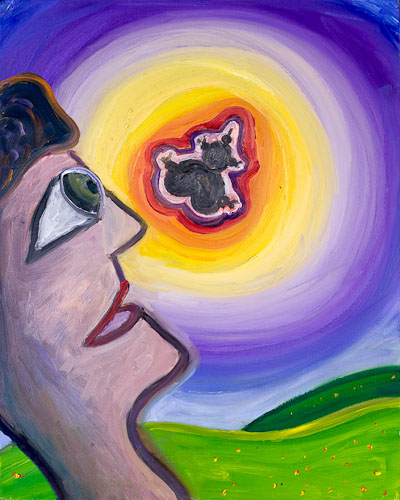 [Visions of the cosmic fractal in the sky.]
Let me make it clear that I'm going to be talking about science fictional ideas in this post. Not about a priori academic arguments regarding possibilities of AI.
As I mentioned in the last post, there's a tantalizing dream of AI workers that there may yet be some conceptual trick that we can use to make our machines really smart. The only path towards AI at present seems to be beating problems to death with evolving neural nets working on huge data-bases. We get incremental progress by making the computers faster, the neural nets more complex, and the data bases larger.
The SF dream is that there's some new and exciting angle, a different tech, a clear and simple insight, a big aha.
And--the kicker for my planned SF novel--the aha would work for human brains as well as for machines. I'm in fact thinking of us finding the big aha for human brains first, and only then transferring it down to the computers. Intelligence augmentation, then artificial intelligence. Not that the AI will even matters that much anymore if we can kick our own minds into a higher gear.
So what's the big aha that I have in mind?
My Mind Is A Quantum Computation
I'm liking the ideas having to do with quantum computation. At one point SF writers used radio as an all-purpose Maguffin, then it was radiation, then black holes, space warps, chaos theory, quarks...these days I'm liking quantum computation as a magic wand.
Every object supports a very intricate quantum computation. Think of a septillion or so particles hooked together by intricate forces, all of them vibrating. Clearly any object is a universal computer with a very rich range of readily accessible states.
Let me start thinking of my mind as a quantum computation. After all, my thoughts aren't at all like a page of symbols--they're blotches and rhythms and associations. Is there any communicable way to truly describe your real mental life?
My unconventional physicist friend Nick Herbert has been talking to me for a decade about something he calls "quantum tantra." He wrote up the details in a brilliant essay, "Holistic Physics: An Introduction to Quantum Tantra," here.
Go back to the notion that your brain, like any physical object, is a quantum system. Quantum systems can evolve in two modes:
(Chunky) In a series of discrete Newtonian-style wave-collapses brought on by repeated observations. Our communicable, standard mental content is all chunky, and this is the kind of thing we try and mimic when we write programs for artificial intelligence.
(Smooth) In a continuous, overlapping-universes style of evolution of state according to Schrödinger's Wave Equation. The smooth mode is closer to how our inner mental experience feels. That is, upon introspection, my consciousness feels analog, like a of wave on pond..
The abrupt transition from mixed state to pure state can be seen as the act of adopting a specific opinion or plan. Each type of question or measurement of mental state enforces a choice among the question's own implicit set of possible answers. Even beginning to consider a question initiates a delimiting process.
The continuous evolution of mixed states corresponds to the transcendent sensation of being merged with the world, or, putting it more simply, to the everyday activity of being alert without consciously thinking much of anything. In this mode you aren't deliberately watching or evaluating your thoughts.
How To Get the Big Aha?
One scenario is a Henry Kuttner-type flaky scientist/inventor coming up with an oddball physics device. He can stay in the smooth mind groove without having to collapse his consciousness. He's thinking in parallel. But we don't get into any multiple universe angles, we play it straight, a person expanding their mind by getting their particles into an unusual state.
And then, of course, they can amp up the objects around them. Talk to the objects, make them act weird. Wacky matter. You don't get high, your house gets high for you.
The action of the Big Aha is like an Om that reaches down to the attometer level. The aethereal vibration. The faint squeak of the Pigg Boson's curly tail. But it's not meditation and it's not drugs. It's physics.
I see a subcultural group growing up around the Big Aha. I'd rather not see them become stock market wizards like the guy in that movie Limitless. And I don't want them to be like acidheads. Some other kind of oddness. They have weird senses of humor.
My precise flimflam physics recipe for achieving the Big Aha is still not quite clear to me. I'll get there. And then in retrospect it'll be "obvious."
Think about it over Xmas and share your thoughts in the comments. How would it be to think in an entirely new way? What routes might take you there? Can you stop collapsing the states of your mind?
Aha!