Literature at large has its own tropes or standard scenarios: the unwed mother, the cruel father, the buried treasure, the midnight phone call, the stranger in town and so forth.
When I speak of power chords in the context of SF, I'm talking about certain classic tropes that have the visceral punch of heavy musical riffs: blaster guns, spaceships, time machines, aliens, telepathy, flying saucers, warped space, faster-than-light travel, immersive virtual reality, clones, robots, teleportation, alien-controlled pod people, endless shrinking, the shattering of planet Earth, intelligent goo, antigravity, starships, ecodisaster, pleasure-center zappers, alternate universes, nanomachines, mind viruses, higher dimensions, a cosmic computation that generates our reality, and, of course, the attack of the giant ants.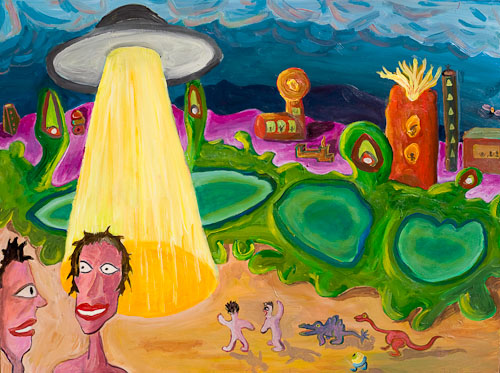 ["Welcome to Mars" by Rudy Rucker. More info on my paintings page.]
When I use an SF power chord, I try to do something fresh with it, perhaps placing it into an unfamiliar context, perhaps describing it more intensely than usual, or perhaps using it for some new kind of thought experiment.
And if the material takes on a life of its own, it leads to what I call the gnarly zone. In short, a gnarly process is complex and unpredictable without being random. If a story hews to some very familiar pattern, it feels stale. But if absolutely anything can happen, a story becomes as unengaging as someone else's dream. A gnarly tale is lies in between. It's not predictable, but it's not random. Gnarl is midway between logic and madness.
Note that fictional gnarl isn't really hard to achieve. It's just a matter of relaxing. If you set your tale free, it becomes a simulated world in which the characters and tropes and social situations bounce off each other like eddies in a turbulent wake, like gliders in a cellular automaton graphic, like vines twisting around each other in a jungle. It's alive, and it's gnarly.
When I write, I like to be surprised. I like to see power chords doing new things. Charlie Stross's Saturn's Children of 2008 was a good example of making the old chords do new things. In a way, it's a Heinlein space novel with Asimov robots as the characters. But it's fresh and new, as it's a take-off on that mode, carried out very wittily and consciously, so that, for me, the book felt like a nut-filled holiday cake stuffed with funny twists and jokes and references.
There's a joke about the robots believing that the "Creators" (the now extinct humans) lived with Tyrannosaur dinosaurs during the "antediluvian" times--they're getting their historical info from fundamentalist tracts they've unearthed.
The statue of the Maltese falcon appears, described as a "model of an extinct airborne replicator that preyed on other similar avioforms." And the robots are puzzled about public bathrooms: "I keep moving, looking for an unoccupied shrine--one of those curious rooms of repose that our Creators installed in all public places."
There's some beautiful prose in there, too. "Jupiter is a gibbous streaky horror...while the sun, a shrunken glaring button..." And the robot heroine carries around her ancestors' personalities in a "graveyard" box of chips.
Renewing the old tropes is good--it's maybe a little like a contemporary musician making a cover version of a classic song. But it's also good when you come up with a brand new power chord of your own. Although some might question if if this is possible.
As I mentioned, one of the ideas I'm into these days is hylozoism--the vintage philosophical notion that every object is alive and conscious. Re. hylozoism, I might paraphrase a remark that Stephen Wolfram made to me about the reception of his early work on cellular automata and the computational nature of the physical world. "Half the people says it's trivial. And the others say it's wrong. I think that's a good place to be."
Flowing out of hylozoism is the possibility that you can do telepathy with the objects around you--and tweak their physics. Kind of a step beyond telekinesis. You move into a direct matter control trope and then have some fun with that wacky matter stuff.
And to get that working, you need your Big Aha. Instead of that stroboscopic cuttlefish I was talking about, maybe you grow a ruff-like shelf-mushroom on the back of your neck, and cultivate a whorled coating of lichen on your shaved head.
Big fun.