As I mentioned in an earlier post, I've always been repelled by the notion of the multiversal world of branching time--a cosmos in which no decision matters, as you also do the opposite in some other branch of time.
Rather than feeling that the other paths are real, we in fact have an emotional, experiential sense that the bad, unchosen paths are in fact shriveling away to the left and the right. If we didn't feel this way, why would we sweat our big choices?
I'd like to see a story in which the unchosen paths really are withering away. Or, if not withering, being somehow backed away from.
So for the purposes of an SF story I'm thinking of, I'll propose that there really is only one truly existing path through the branching thicket of possible worlds. The others are juiceless abstractions. But I do want a sense of someone feeling out the best paths as in Phil Dick's vintage precog story, "The Golden Man."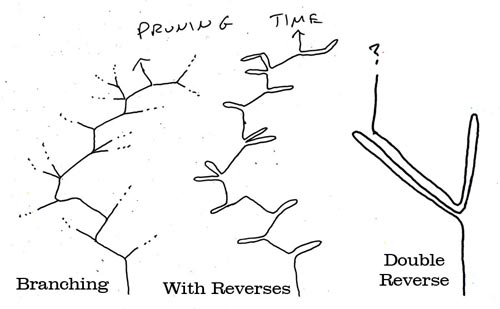 My gimmick might be to suppose that our path is not a striaght line. It has kinks in it, stubs. Our cosmic world line does very commonly grow a stub out a few seconds (or longer) past a given branch point. But then it backs up and goes into the main branch. There's a continuous line of time but it sometimes reverses its direction a bit and then starts forward on a new tack.

Suppose these reversals of time are very common. In fact they're all but ubiquitous, as rapid as the flickering flow of thought. I think of the physicist John Wheeler's remark that electrons are waves because they need to "sniff out the best path."
People don't notice the reversals. When the time flow kinks and makes a U-turn, those moving along the timeline experience events as running backwards. Like a rewind. But they don't notice. The memories get erased. If you play a movie backwards, it's not like the people on the screen start saying, "Hey, we're going backwards."
In order to have a story, we'd need that our character does learn to notice. How?
Not quite sure. Suppose this guy has learned to view his memories as in some sense real. And he develops a 4D spacetime consciousness so as to be present at each instant of his life. And he manages to get so in tune with the universe as a whole that he (falsely) begins to imagine that he's influencing the reversals, the U-turns. Like a gambler on a roll who starts falsely imagining he's influencing the dice with telekinesis.
Some others have the rare power to notice time's reversals as well. And our hero meets a woman with this power, and they are fellow travelers for a while. Watching the reversals happen. Timefreaks. Not entirely sure if they are or are not causing the U-turns. Discussing this.
In writing about time adventures, I'd prefer not to bring in the tar-baby of second-order time. I'd like to see just one bright, folded time line that's etched upon a time fan. So I don't want my characters actually to be changing the shape of the line, because then we're looking at a second-order time in which the man's and the woman's long world-snakes of a time-bodies are kinking and writhing. They feel like this is happening. But actually they're wrong.
So what's the story's kicker? Let's say something bad happens to our hero. He's about to die in a really gnarly and horrible accident. And he decides that his life for the last few hours or months has been on a bad path. There's an element of romantic conflict with his woman friend as well. And now he wishes he could roll back the universe before he dies. And then at the last second there's a U-turn in time.
It's a little like the Jorge Luis Borges story, "The Secret Miracle," where the passage of time pauses for this guy who's about to be executed by a firing squad, that is, the guy perceives time as stopping so he can think things over before the end. But nobody else notices.
In our story, when our hero hits the U-turn, our hero imagines that he or some cosmic power has gotten hold of the whole universe and put it into reverse just before he was about to get creamed. And for awhile it's better for him than for the guy in the Borges story, as he's off doing new stuff.
But now, with universe onto a new path, something worse happens. Our hero meets up with his lost woman friend, and, oh no, now she's about to die horribly. He makes another huge effort of the will, and experiences another temporal U-turn and maybe then he goes into a branch where things get even worser. There seems to be no happy path on the time fan of possibilities. The world was as good as possible before he hit that one lifesaving U-turn. And now, without exactly willing this, he ends up at that point again. And he meets his death. It's a little like that Ambrose Bierce story, "An Occurrence at Owl Creek Bridge."
The one upside is that, in this (final?) version of the guy's timeline, the woman lives.
Right before he dies he realizes that there never was any second-order time at all, no meta-time. He was just sniffing along a repeatedly folded back section of the immutable cosmic timeline, and was only imagining that he was causing the U-turns.
Haunting possibility--the timeline is fractal, like a space-filling curve, endlessly going back and forth, so that there never is a stone-cold final version of your life--as more and more of the timeline is taken into account, you undergo an infinite number of fate-flips. Like trying to sum the divergent series:
1 - 1 + 1 - 1 + 1 - 1 + ...