The word "transreal" that I started applying to my novels in the early 1980s was inspired by a blurb on the back of my copy of A Scanner Darkly, saying that Philip K. Dick had written "a transcendental autobiography."
I got my copy of A Scanner Darkly at the first-ever SF convention that I attended, at Brighton, England, 1979--Phil's book was just out, and some friendly British stoners whom I'd befriended at the con were talking about it, complaining a little that it was "too anti-drug." They didn't seem excited about the fact that the book was probably drawn from a chapter of Phil's own life--and that it was deeply funny, at least for those who have a taste for Phil's dark humor.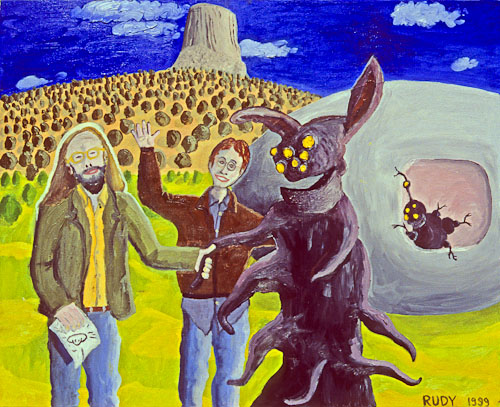 [Painting for my transreal novel, Saucer Wisdom, showing, left to right, my friend Gregory Gibson, me, and two aliens.]
After the Brighton convention, waiting on the platform for my train back to London, I was reading Scanner as I stood there. And I was laughing so hard that I left my suitcase on the platform--which I suddenly realized as the train started to move. I jumped back out in the nick of time.
Up until Scanner, I hadn't fully grasped how close Phil Dick's novels were to the kinds of books that I wanted to write. I particularly liked the language-with-a-flat-tire way that his characters talked in Scanner, and over the years I'd begin to emulate his peculiarly Californian tone. And even more, I liked the sense that Phil was writing about real people.
In 1983 I published an essay, "A Transrealist Manifesto," in the Bulletin of the Science Fiction Writers of America. I have it online now. Like any young artist's manifesto, mine was designed to announce that my style of doing things was the One True Way --- or at least a legitimate way of creating art. In my manifesto, I explained that transrealism is trans plus realism, a synthesis between fantastic fabulation (trans) and closely observed character-driven fiction (realism), and I advocated something like the following:
Trans. Use the SF and fantasy tropes to express deep psychic archetypes. Time travel, levitation, alternate worlds, aliens, telepathy--they're all symbols of archetypal modes of experience. Time travel is memory, levitation is enlightenment, alternate worlds are travel, aliens are other people, and telepathy is the fleeting hope of finally being fully understood. Put in science-fictional events or technologies which reflect deeper aspects of people and society. Manipulate subtext.
Realism. Possibly include a main character similar to yourself and, in any case, base your characters on real people you know, or on combinations of them. To this end, have your characters be realistically neurotic --- after all, there really aren't any "normal well-adjusted" people. Don't glorify the main character by making him or her unrealistically powerful, wise, or balanced. And the flip-side of that is to humanize the villains.
I see transrealism as a way to describe not only immediate reality, but also the higher reality in which life is embedded. And I see transrealism as tool for personal liberation. How so?
A lot of us are oppressed by a belief in the default consensus reality--which is promulgated by the big media, the governments, and the business interests. In fact each of us lives in our own reality, we each have our garden to cultivate. And a transreal novel can elevate a particular individual's reality into a worldview, nay, into a cosmos, complete with mocked-up trillion-dollar special effects.
These days, I no longer think that I have to go whole hog with transrealism and cast my friends and family into my books. I think they got a little tired of it. For awhile there, I was like Ingmar Bergman, continually making movies with the same little troupe of actors/family/friends.
In 1999, I pushed transrealism to the max, and wrote a novel, Saucer Wisdom, which featured a character called Rudy Rucker, who encounters a UFO abductee called Frank Shook. The kicker is that Frank was modeled on my college roommate Gregory Gibson.
And to make it completely crazy, Greg came along to meeting at Wired magazine where I was pitching Saucer Wisdom to the Wired editors as a non-fiction book, me claiming that Greg really was a UFO abductee. The details are in my autobio.
I've written eight more novels in the years since then, but after Saucer Wisdom, I've found that I can in fact write transreally without overtly using my own life or specific people that I know.
Even without having any characters who are particularly like oneself, one can write closely observed works about your own life experiences. And if you transmute these experiences with the alchemy of science fiction, the result is also transreal.
For instance my latest novel, Jim and the Flims, has a scene with the main character Jim making a trip to the hospital similar to one that I myself made. But Jim then has adventures rather different than mine---he leaves Earth and travels into the afterworld.
In transmuting my health crisis into SF, I thought of my old mentor Robert Sheckley's remark that a writer is someone who'll willingly descend to hell and suffer the torments of the damned---so long as he or she is assured they can write about it.
Recently, when I wrote my autobiography Nested Scrolls, I had to resist an impulse to do a reverse-transrealism number on it. That is, I was thinking of having it be mainly a straight memoir, but of folding in some invented SFictional episodes. In the end, though, my real life seemed strange enough.