Ahem. That is to say, my name is Elizabeth Bear (I bet many of you knew that already, since it shows up at the top of the page.)
So I wrote this book. No, not that book. This book: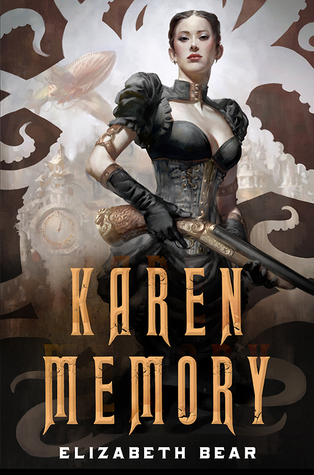 [SUBLIMINAL MESSAGE: BUY MY BOOK.]
And it's new, out just this week. It came out on Tuesday. It's called Karen Memory, and it's a Weird West thriller with steampunk and alternate history elements. It stars a wisecracking cast of saloon girls, an itinerant and deadpan U.S. Marshal and his even more deadpan posseman, and a deaf white cat with an attitude problem. It features adventure, hijinks, shenanigans, murder, gunfights, rooftop chases, steam-powered mechs, and the occasional airship, as contractually required!
There's this thing in the industry we call the "elevator pitch." Which is what it says on the box.

The elevator pitch for Karen Memory is "Heroic steampunk prostitutes versus disaster capitalists, in the Gold Rush American West." In any case, I think it's a lot of fun, and I hope you will too. This is one of my favorite casts of characters of all time.
Yesterday, it was #16 on Amazon in Science Fiction and #2 in Steampunk. I had threatened to get on the internets and sing a Tom Waits song if it made #1, but no luck so far.
You can read an excerpt here.
And if you buy it and hate it, you can frame the cover art. Seriously, look at that cover art.