ghItlhlu'meH QaQ DaHjaj!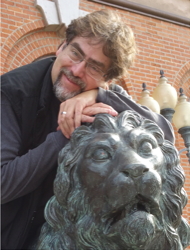 Hi there, I'm Lawrence M. Schoen, and yes, the title above is in Klingon. It loosely translates as "Today is a good day to write." I mention this because Charlie has generously invited me to post here and now then, and you can expect something from me very soon as part of the shameless publicity plot commonly known as a "blog tour," in which an author with a new book coming out (in my case, that would be December 29th in the US and January 13th in the UK) asks, begs, and pleads friends and colleagues for a chance to tap into their respective audiences, day after day, desperately trying to say something new and fresh at each stop along the social media highway.
So, thanks.
Before you read that first post (well, I suppose this is the first post, but you know what I mean), let me share some biographic info with you so you know where I'm coming from, and can check my credentials via Google or Wikipedia or wherever.
My email sig describes me as an author, a publisher, a psychologist, a hypnotist, and a klingonist. More specifically, I hold a Ph.D. in cognitive psychology. I've been nominated for the Campbell, Hugo, and Nebula awards. I'm considered a world authority on the Klingon language. I operate the small press Paper Golem, And I'm a practicing hypnotherapist specializing in authors' issues.
Much of my previous science fiction consists of light and humorous adventures of a space-faring stage hypnotist and his alien animal companion. My latest work is the novel Barsk: The Elephants' Graveyard. This book takes a very different tone, exploring issues of prophecy, intolerance, friendship, conspiracy, and loyalty, and redefines the continua between life and death.
I live near Philadelphia, Pennsylvania with my wife, Valerie, and my dog, Gej. Neither of them speak Klingon.
Coming up in that next post: my thoughts on repurposing memory as a form of immortality. I hope you'll check it out.