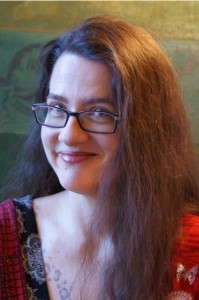 Hi, everyone! My name is
Alyx
and I'll be posting the occasional note here over the next few weeks, because Charlie was kind enough to hand me the mic. I thought I'd start with a long, musing whimsical thing about mincing subgenres and the nature of ecofantasy, because my upcoming book
A Daughter of No Nation
lies within that particular subgenre--when it's not passing for portal fantasy or a pirate story or crime fiction with magic.
Sadly, the opening of that essay is wayyyy too stuffy, at present, and needs to be beaten with a sack of oranges. Don't worry, I'll fix it before you see it. Anyway, I should introduce myself first, right?
So--official details: I'm in Toronto, I have gobs of stories out along with the four ecofantasy novels, the first two of which, Indigo Springs and Blue Magic, are chock fulla magically mutated animals, magical objects and queer folk. Seriously. I mention this last because a) I have the exceptional good fortune to be incredibly gay married to author Kelly Robson; b) my most recent book, Child of a Hidden Sea, was to my utter delight and astonishment nominated for a Lambda Award this year. The above-mentioned A Daughter of No Nation is its sequel. There will be a third; its current title is The Nature of a Pirate.