This will be, I think, the last of my guest posts here on Charlie's Diary. It's been fun to have such a big audience, and some of your comments have been quite valuable.
I'm pleased to have stood in for a man who's one of the greatest SF writers to come along in years. Charlie Stross, Cory Doctorow, and Lauren Beukes are my faves among the SF generations after mine. Not to mention all the wonderful weirdos I've been publishing in my free online zine Flurb over the last five years. Click the cover image to see issue #12. The preceding issues are online as well, and there's an index by authors. If you root around, you'll even find an old piece by Charlie.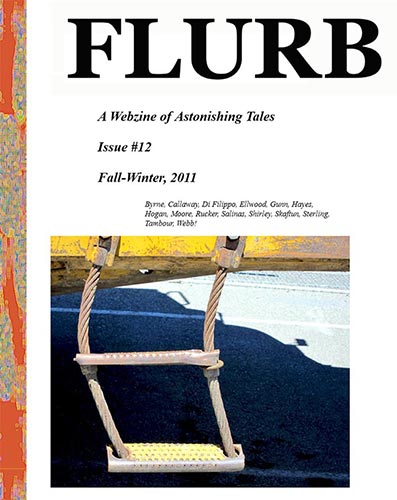 Sometimes I get a little tired of being cast as a science fiction writer. In my mind, I see my novels as surreal, postmodern literature. I just so happen to couch my works in the vernacular genre form of SF because the field's tropes appeal to me. The downside is that, since my books have that SF label on them, many people don't realize that I'm writing literature.
In academic philosophy, they use the phrase "category mistake" to refer to a situation where one tries to apply a property to something that cannot possibly have this property. The classic example of a category mistake is the question, "Is virtue triangular?"
Sometimes I feel like my whole career of writing literary SF is a category mistake, and I wonder if there might be a way to get my work relabeled.
As Kurt Vonnegut famously put it in 1974, "I have been a soreheaded occupant of a file drawer labeled 'Science Fiction' ... and I would like out, particularly since so many serious critics regularly mistake the drawer for a urinal." Not too long after this, Vonnegut did make it out of the drawer. Although he never stopped writing SF, he got people to start viewing his works as literature.
More recently, Jonathan Lethem is a strong example of a former SF writer who's managed the escape-from-the-ghetto move. He's a high-lit writer now, but in some sense his books are still SF, or at least fantasy-tinged. He has some interesting ruminations about this in his new book of non-fiction pieces, The Ecstasy of Influence. At this point, if I'm reading him right, Lethem seems actually to be saying that he'd always meant to become a mainstream writer, but that he'd deliberately detoured through the SF scene because he thought that would be cool. His early SF novel As She Crawled Across the Table was very good.
In terms of crossovers between mainstream and SF, others start out as a mainstream writers, and then begin adding SF elements to their novels--some weeks nearly every novel reviewed in the Sunday Times is some variant of crypto-SF. Of course these kinds of books tend to be called speculative or imaginative fiction rather than SF.
Enter bitter rant mode: The cosseted high-lit mandarins tend not be aware of just how familiar are the chords they stoop to strum. To have seen an SF movie and to have dipped into Heinlein, Asimov and the estimable Neuromancer is sufficient SF research for them! Their running-dog lickspittle lackey mainstream critics are certainly not going to call their cronies to task if they fail to create original SF. After all, science-fiction writers and readers are subnormal cretins who cannot possibly have made any significant advances over the most superficial and well-known representations, and they should only be grateful when a real writer stoops to filch bespattered icons from their filthy wattle huts. Exit bitter rant mode.
When I gripe about my SF-label to my wife, she laughs at me. "Not science fiction? You're writing about robots and talking cuttlefish and flying saucers and trips into the fourth dimension! What do you expect people to call your books?"
If my autobio doesn't break me out into the mainstream market, I've got The Turing Chronicles on deck. This is an already-finished novel about a love affair between computer pioneer Alan Turing and the Beat writer William Burroughs. Turing finds a way to turn people into shape-shifting slugs. That one will be commercial mainstream high-lit, right? No? Oh well!
I know it's only rock and roll, but I like it.
And I'm lucky to be able to write and get published at all.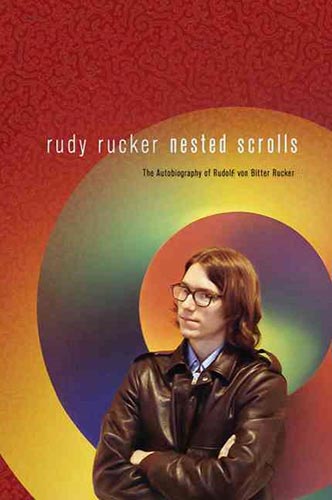 Finally---please do check out my new autobiography if you get a chance. Nested Scrolls!