Today is my 50th birthday. As Terry Pratchett noted, "inside every old man there's an 8 year old wondering what the hell just happened". In the absence of some really big medical breakthroughs I'm almost certainly more than halfway through my span: so what have I learned?
(Note: I'm putting this in a blog entry rather than a novel because this is the right place for self-indulgent bloviating and miscellaneous wankery. Put it another way: if you read it here, you don't have to get angry at me because you paid good cash money for it. Just file under getting-it-out-of-my-system and move on.)
Rule 1 is "don't die". If you fail at Rule 1, by definition, you failed at everything else.
NB: some people of a theological bent are of the opinion that personal experience continues after you fail at Rule 1 (and that's before we get stuck into the simulation hypothesis). I'll believe them when I get a bad review for a new book from a long-dead critic. In the absence of such feedback, I'm proceeding on the assumption that this is the only chance you get: no do-overs. Nor do you win some kind of prize for dying with the most toys, or the most money: you don't even get a prize for dying with the most children (they, on the other hand, might have reason to drink a toast to your memory) ... personal extinction is forever.
There are several corollaries to Rule 1, but they're mostly obvious: coronaries have right of way, for example; or never eat anything bigger than your head (unless you're a gulper eel). Some are less obvious: start exercising now because it'll hurt less than starting when you're older. (I generally hate exercise, but I hate it less than the idea of failing at Rule 1.) Or take the meds your doctor prescribed you, in the manner directed unless they make you feel really ill: in which case go back and TELL THE DOCTOR (don't just stop taking them). NB: medical professionals can argue the toss, you probably can't.
Rule 2: Idiots are everywhere: fixing their idiocy is not your problem (unless it really really is — which is seldom the case). No, seriously, XKCD nailed it: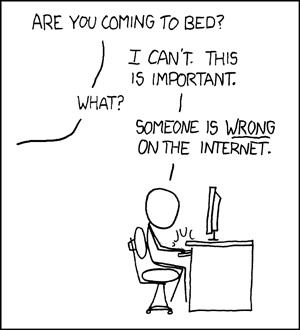 Remembering this rule (and figuring out how and when to apply the exceptions) will save your blood pressure, your hair, and a lot of stress: it will also contribute to you obeying Rule 1. Unfortunately obeying Rule 2 may prove difficult if you are a bit obsessive-compulsive, but what the hell, at least you'll have fun Being Right on the Internet ...
Seriously, if you hold with Richard Dawkins' exegesis on the extended phenotype, there's a reason for this. We shaved apes can acquire cognitive tools from one another. So rather than having to think outside the box for ourselves, we can rely on the normal distribution of smarts among our species to ensure that some outlier can think outside the box for us, and we can then copy their technique. Once we developed language (the platform for horizontally transferable skills) we were no longer under an evolutionary selection filter for better individual general intelligence. We are, quite literally, no smarter than we need to be: we're the dumbest possible species of intelligent tool-using talkative mimics, except for African Gray parrots and Fox News commentators. (Who might actually be African Gray parrots in disguise, trying to bring about our downfall; that's no crazier than some of the things they come out with, is it?)
If it amuses you to do so you may occupy yourself by trying to do something about the stupids, or to contribute to the long-term commonweal for people who will never even know you existed. That would be good. But seriously, bear in mind Rule 2 — and beware of Dunning-Kruger syndrome.
Rule 3 is the Golden Rule, in the original (non-Jesus, i.e. negative) formulation: do not do unto others that which would be repugnant were it done unto you. (This is not the same as that meddling do-gooder's manifesto, "do unto others as you would be done by" because, hey, everybody likes to eat shit just like me, right?) Honourable exceptions for self-defence (as long as you didn't start it) and Being Right on the Internet, as long as you do not wallow to excess in Being Cruelly Right on the Internet. Ahem. No, seriously, a lot of things would be a whole lot better if we all just tried not to inadvertently stomp on each other's corns.
Oh, and by the way? These days I'm convinced that the reputation grumpy old men have for being grumpy (not to mention old) is a side-effect of the way chronic low-grade pain goes with the ageing process. It's a sad fact that once you pass your thirties you get increasingly creaky: and constant low-grade aches and twinges do bad things to your temper. It's another sad fact that, for better or worse, most of our world leaders are middle-aged or elderly men, who should be presumed grumpy due to low-grade pain until proven otherwise. (There's probably a political solution to bringing about world peace through better access to analgesics, but that's a topic for another rant.)
(There is an inverse corollary of Rule 3, of course: as some 19th century wag remarked in a Victorian ladies' etiquette guide, "a true lady never unintentionally gives offense". (At least, not in front of witnesses.) If you're going to hurt someone? At least be clear about what you're doing, and why. Hypocrisy sucks, especially when this is going to hurt me more than it hurts you.)
---
And that's basically it.
There's a bunch of minor stuff I'd love to have been able to tell my 15-year-old self ("son, buy shares in a Californian company called Apple, that's AAPL, and don't sell them until 2014") but they're mostly spurious. There are also some regrets, but again: no point crying over spilled milk. And of course, with full foreknowledge some of my life choices would be different (I'm thinking of you, Mister school careers guidance teacher whose name I've forgotten). But all of that is me-specific, and probably meaningless to you.
---
So that's my distillate of fifty years of obeying Rule 1. What have you learned that you'd like to see engraved on your tombstone?