I'm guest-blogging on Charlie's Diary for a week or two, putting up about six posts. I'm doing this for fun, and to drum up interest in my autobiography, Nested Scrolls, which is just out from Tor Books in the US, and has been out from PS Publishing in the UK since June.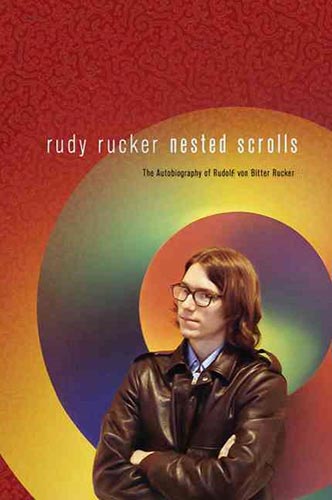 I'll put my first post today, and then come back with my second post on December 27. And I probably won't be delving into the comment threads until Dec 28.
Preminary Pleasantries.
I'm happy to be on Charlie's blog as he's one of my favorite writers. For me, Accelerando was a huge breakthrough. Before Accelerando, SF writers were kind of worried about how to write about the aftermath of the Singularity. And then Charlie showed us how. Pile on the miracles and keep a straight face. And Accelerando was literate and funny. Once I'd read it, I was ready to write my own postsingular novel--in fact I called it Postsingular.
Something I especially liked in Accelerando was Charlie's way of saving fuel on interstellar flights. Send the people in the form of simulations running inside a computer/spaceship the size of a Coke can. And the people on his tiny ship are well aware of their nature--they jokingly refer to themselves as "pigs in cyberspace." Lovely.
Origins of the Digital Immortality Trope
Stepping back from the postsingular future, I'm going to spend my first couple of posts talking about digital immortality, both as an SF trope, and as a near-future real-world tech product. And then I'll do some posts about writing science-fiction, and about some of my recent ideas.
My early cyberpunk SF novel Software of 1982 is, I like to argue, one of the first books in which we see humans uploading their personalities as software for android bodies. Feel free to comment if you think I'm wrong about this. I'm ready for you. But, as I mentioned, I won't be on the comments until about December 28.
For now, let me say a little more about the mind-uploading trope, and suggest a way of faking digital immortality in the near future...

As I recall, thirty years ago, uploading your mind to a computer was not at all an idea that was "in the air." Before I was able to write Software, I needed to work out a whole theory for the uploading process in my non-fiction book Infinity and the Mind, which also appeared in 1982.
I will confess that I had a certain failure of vision when I wrote Software. At that point, computers were physically large, and some of them needed to be kept very cold. So I had my main character Cobb's personality living in a large, refrigerated computer that was housed in an ice-cream truck that followed his nimble android body around!
Computer scientist Hans Moravec further popularized the notion of personality uploads in his Mind Children of 1988. And by now, the notion of a personality upload is so commonplace that people have trouble understanding that it was initially a difficult thing to imagine.
Having thought about the idea for so long, I've naturally developed some opinions about it. In practice, copying a brain would be very hard, for the brain isn't in digital form. The brain's information is stored in the geometry of its axons, dendrites and synapses, in the ongoing biochemical balances of its chemicals, and in the fleeting flow of its electrical currents.
By the way, in my novel Software, the robots who specialized in extracting people's personality software do so by eating their brains--which made for some nice lively scenes. Why is this book not a movie yet?
Another side-issue regarding personality uploads is that our personalities are not in fact localized within our brains. We live in our entire bodies--in our hearts, in our muscles, in our organs. So you'd really want to be uploading a blueprint-plus-operating system for the entire body, not just the brain. But then you're shading into space-travel via direct matter transmission, as in the movie The Fly. Which is quite a different trope.
But it's really the personality-as-computer-code idea that we want to be talking about here, so let's focus on that. Without getting into the messy biological aspects of having a human body, how might we best model our selves as assemblages of digital data and software?
The Lifebox Method for Faking Digital Immortality
My feeling is that we're on the verge of having a technology for making such digital models of human personalities. I use the word lifebox for these computer models. My idea is simply that, instead of using some unknown tech to upload a subject's personality into a computer, I'll settle for a reasonably good facsimile of the subject that lives either online or, if feasible, inside an android. The lifebox data and code is to be created with today's ordinary off-she-shelf tech, and with the participation of the subject.
The method that I envision is that a lifebox contains a hefty database with a goodly selection of a person's memories, along with a rich set of hyperlinks among the memories. And you give it a bit of a front-end so you can interact with it. This is an idea I've been talking about for a few years--see, for instance, my tome on the meaning of computation: The Lifebox, the Seashell, and the Soul.
A number of tech firms are already working on various types of lifebox products, and the concept has been discussed in an article "Cyberspace When You're Dead" in the New York Times, as well as the recent Personal Digital Archiving conference in San Francisco. I have some links and background on the idea in my blog post, "Digital Immortality Again." The subject is continually advancing and evolving.
Your lifebox will have a kind of browser software with a search engine capable of returning reasonable links into your database when prompted by spoken or written questions from other users. These might be friends, lovers or business partners checking you out, or perhaps grandchildren wanting to know what you were like.
Your lifebox will give other people a reasonably good impression of having a conversation with you. Their questions are combed for trigger words to access the lifebox information. A lifebox doesn't pretend to be an intelligent program; we don't expect it to reason about problems proposed to it. A lifebox is really just some compact digital memory with a little extra software.
One marketing motivation for a lifebox is that old duffers like me always want to write down their life story, and with a lifebox they don't have to write, they can get by with just talking. The hard thing about creating your life story is that your recollections aren't linear; they're a tangled banyan tree of branches that split and merge. I myself was in fact able to write an autobiography Nested Scrolls--because I've spent my whole life as a professional writer. But for someone trying to start out from scratch, the task is overwhelming.
Rather than trying to create a linear narrative, the lifebox uses hypertext links to hook together everything you tell it--with no preferred sequence. And then your eventual audience can interact with your stories, interrupting and asking questions.
Who hasn't had the experience of studying an author's writings or an artist's works so intensely that you begin to at least imagine that you can think like them? The effect of the lifebox would be to make this type of software immortality accessible to a wider range of people.
So that's it for today, and I'll be back with more about the lifebox after Yule. Have a good one!