I grew up reading comics; but unless you're British and of a certain age, they almost certainly weren't the comics you grew up reading.
I'm British, ~50 years old. The weekly printed-on-crap-newsprint kids' comics market was dominated by D. C. Thompson & Co., rigidly gender-segregated, and on the boys' side of the counter contained plenty of short strips heavy on two-fisted derring-do and schoolboy humour, but not so much on superheroes: comics like The Beano and The Hotspur set the tone. For the more militarily-minded there were Commando comics. And, like a bolt from the blue, 2000 AD arrived in 1977, when I was twelve and just about growing out of the whole comics thing; that probably kept me hooked for an extra year, and I have fond memories of the early tales of Judge Dredd. But then I discovered D&D and that was that.
Stuff I didn't grow up with: that'd be the whole Marvel Comics/DC Comics duopoly. These were expensive foreign imports, printed in colour on paper that didn't bleed or tear if you touched it with sticky fingers, and the comics were typically single-character (or ensemble) series works, one per issue. I stumbled across them by accident, aged ten or eleven, while parked at a school holiday day centre for a few weeks—someone had donated a shoe box full of Spiderman and The Incredible Hulk—but with no social context and no ability to buy them locally on an ongoing basis they glanced off my perception of the world of comics without making much impact. All I remember is bright colours, flashy images, and lots of weird and perplexing alien slang that made no sense whatsoever to a kid growing up in 1970s Yorkshire before the age of cheap trans-Atlantic jet travel.
So I pretty much stopped reading comics by the time I was 14, and there the matter rested. I sort of knew a comics scene existed, and read a couple of graphic novels during the 80s when there was a brief fad for commissioning SF authors like Ian MacDonald to write scripts, and of course I followed the most important newspaper cartoon strip in the world, but I wasn't really interested until the late 1990s when, visiting some London based SF fans, one of them shoved a rather odd-looking comic into my hands and said "I think you'll like this". They were right: if anything could get Accelerando-era me interested in comics again it would have to be an early issue of Transmetropolitan.
Over the following years I began to read more widely. I discovered The Sandman well after the fact, through the medium of the graphic novel collections. I tripped over manga of course, and broke my head on Grant Morrison's oevre (not so much The Invisibles, trippy though they were, as The Filth—the comic that finally hooked me into actually buying it monthly).
And of course, the world wide web changed everything.
We now find ourselves in the year 2015, where there is so much incredibly creative stuff going on in comics that the Hugo Award for Best Graphic Story this year reminds me of nothing so much as the retro-Hugo award shortlist for best novel of 1954 (just go and look at that shortlist: about half the best SF novels of the entire decade were published that year). Sure there's a sad puppy zombie on the shortlist, but everything else is beautifully drawn, innovative, slyly funny, and adult in outlook. When the Graphic Story Hugo was introduced, some skeptics pooh-pooh'd the idea that comics as a medium might be a suitable vehicle for intelligent adult SF/F storytelling: I think the track record to date triumphantly proves that comics are anything but "kids stuff", and contain some of the most vibrant, creative, and experimental material in the genre. And the Hugo shortlist is far from the only challenging, interesting graphical work out there. In fact, although I like them all (and nominated the one I'd read at the time), there's a lot of other stuff that deserves to be on the Hugo shortlist, especially from the world of web comics (which don't get as much love as they ought to).
What follows is a list of some of the webcomics I've been reading this year and which I commend for your attention. This isn't a nomination slate and I'll be very unhappy if anyone misinterprets this as such: if you vote in any of the open SF/F awards, what you nominate and vote for should be your own choice, and nobody else's. Nevertheless, I think these may not be as visible as many of the store-distributed glossies, so I thought I'd share them with you.
First up: XKCD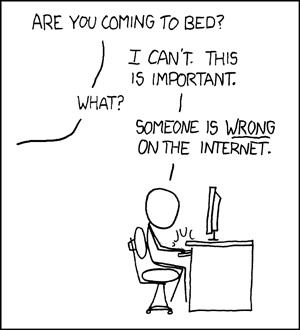 I make no apologies for being a Randall Munroe fanboy nerd. From the stick-figure images to the sharp, insightful and slightly skewed geek perspective on the universe, he's my man. (If anything, the lack of art in the, er, art, highlights the content: there's no eyeball candy to boggle at here, so the essential message has to be spot on target if the strip is to work at all.)
At the exact opposite end of the spectrum from XKCD is Kill Six Billion Demons by, um, someone so dementedly talented both at the drawing and the conceptual level that they don't think in human language any more.
As the ABOUT page says, "This is a webcomic! It's graphic novel style and could be considered fantasy, sci-fi, horror, romance, or any other combo of these things." It also comes with an entire pantheon of barkingly strange mythological gods, demons, and angels into which an initially hapless female protagonist called Alison has been precipitated by a bout of unfortunate sex (unfortunate in that it is interrupted by her boyfriend's abduction by demons).
There is much violence, even more theology, and the occasional outbreak of scripture as Alison deals with having a small devil grow out of her skull and being pursued by the entire population of several Hells—the multiverse is run by organized crime—when they learn that the most important magical artefact in the multiverse is embedded in her forehead.
If Kill Six Billion Demons has a hapless female protagonist, the same cannot be said of Strong Female Protagonist, by Brennan Lee Mulligan and Molly Ostertag: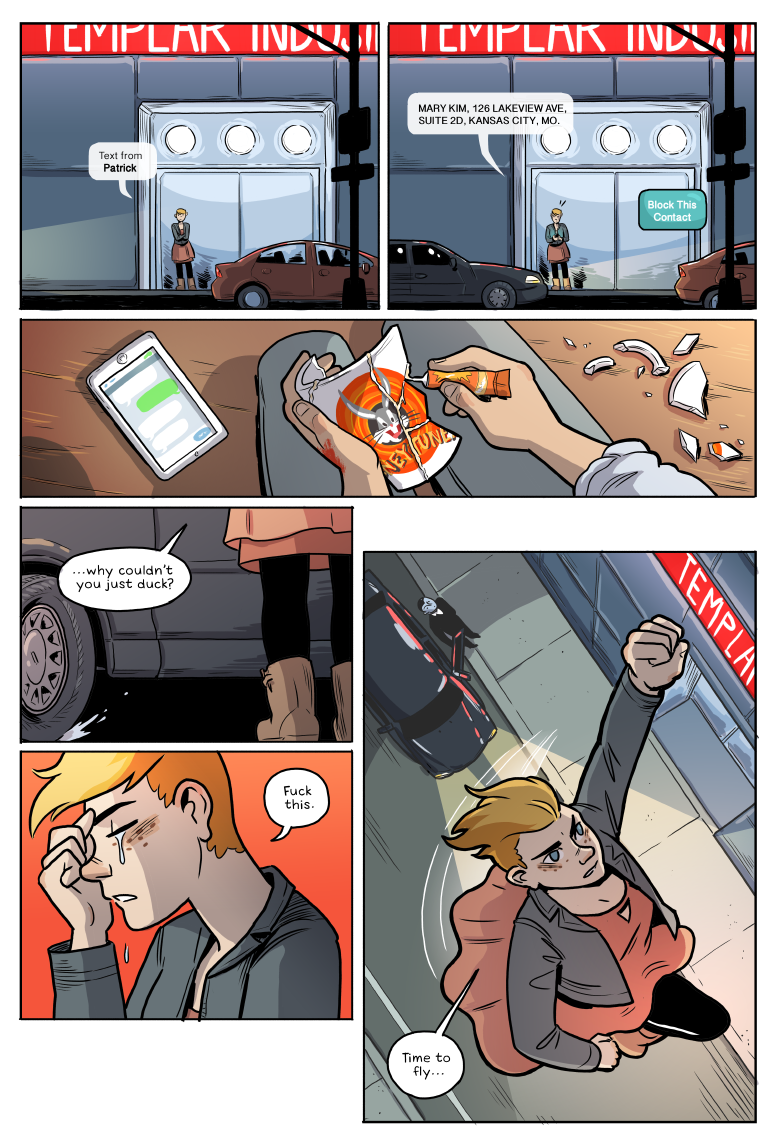 It's a superhero comic, about a young middle-class American college student with super-strength, invincibility, and a crippling sense of social injustice. Alison (not the same Alison as the Alison of "Kill Six Billion Demons"!) was one of the first wave of people to come down with superpowers in her early teens, Alison joined a superhero team—but her youthful belief in her ability to fix the world's ailments faded as the team fell apart, and now she's at college, trying to pick up the pieces of normal life again. However, history has a habit of not leaving her alone ...
(NB: this is pretty much the anti-sad puppy webcomic. And it's available in graphic novel form.)
Decrypting Rita Is a very different style and approach to graphical storytelling (not to mention having a protagonist called Rita, not Alison), by Egypt Urnash. Very post-singularity, much upload, wow: When her ex drags her outside of reality, the fastest woman ever built has to piece herself together across four timelines! And they run in parallel through the entire comic, which is a side-scrolling web experience that translates oddly well to graphic novel format:
(The author comes from the Hollywood animation scene but is here doing her own thing, in a highly stylised and richly overloaded manner—Alas, a single frame doesn't do it justice.)
Finally, where would we be without OGLAF? (Warning: mostly NSFW!)
As with XKCD OGLAF isn't a graphic novel but a series of semi-connected strips by Australian writer/illustrator Trudy Cooper and co-writer Doug Bayne. As it says on the up-front intro, "This comic started out as an attempt to make pornography. It degenerated into sex comedy pretty much immediately ... so if you are a minor, please get a parent or guardian to click the button which says you aren't."
OGLAF frequently consists of one-shot strips, but some of the characters recur intermittently; it's set in much the same sort of abstracted D&D style generic fantasy setting as Rat Queens. However, while Rat Queens is merely intermittently salacious, scatalogical, and suggestive, OGLAF is about 95% 18-certificate rated filth of the best possible kind, camping it up to funny and intermittently pornographic, grotesque, and obscene. Did I mention OGLAF is available in book form? Filth, filth I say, reminiscent of Phil Foglio (before he discovered that Steampunk was rather more marketable than SFnal erotica).
And that, I think, is all for now! If I recover from all this typing, later this week I'll throw down some opinions of print media comics that deserve your attention, from "The Wicked + The Divine" to "Atomic Robo". Meanwhile, what are your favourite webcomics?